Welcome back!!
Today – Factors affecting the Thermic Effect of Food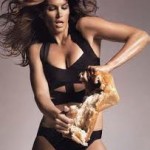 Harnessing the Power of TEF
TEF can be affected in four ways
Overeating
The composition up of the foods we eat
When we eat
The number of times that we eat
Overeating:
Your TEF can be raised by simply overeating as the body has to use more energy to digest a larger amount of food. This means that even if you ate 3500 calories (the number in a pound of fat) you still would not put on that pound as your body would use some of the calories as TEF. How strong the TEF effect on the 3500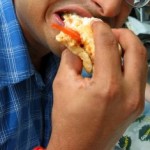 calories would be depends upon what they made out of. If it was high GI, high processed carbs or fat your store more as fat than if it was made up of protein and low GI unprocessed carbs. Bottomline is that you would still put on fat, so overeating is not recommended.
NB There is no such thing as a 'negative calorie' food. Even celery requires less energy to burn that it contributes to your calorific intake.
The composition of the foods we eat:
As we have seen the different macronutrients all have a different thermic effect when we eat them. In order to maximise our fat burn and to increase our metabolism we should be eating protein with every meal, keeping fats generally low, avoid processed carbohydrates and eat un- / low processed, low GI, Low GI load carbs. The up coming Lose 20 in 30 Fuel manual explains all of this in greater detail.
It is important to note though that research has shown that that just upping your protein intake whilst severely reducing your overall calories does not produce enough of an increase in your TEF to offset the overall metabolic reduction such calorie restriction cause. Research has also shown that adding spices such as chilli and curry to your food increases your metabolism overall, but particularly your TEF.
When we eat: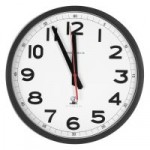 Our TEF is higher (average 16%) in the morning than in the evening (average 11%) according to the American Journal of Nutrition. The variance is not huge but we should harness this to work for us. Every little bit helps when it comes to altering our metabolic set point.
You should also try to eat the majority of your carbs in the morning as your body is coming off the enforced 'fast' we call sleep. Carbs early gets your metabolism moving and research shows that carbs eaten earlier in the day are less likely to be stored as fat.
The number of times we eat:
Eating more often increases our TEF. But research has shown that the number of meals consumed has to be consistent from day to day for this to have maximum metabolic effect.
Research from Queens University has shown that eating in an irregular daily meal pattern (three meals one day, four the next, then two, then six then…) results in a significantly lower TEF than that found in folk who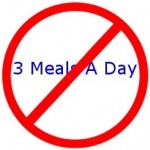 eating to a regular meal pattern. The TEF is even more enhanced in those who eat six meals per day. (Again don't think of plates of food, but rather 3 main meals and three 'snacks or top ups)
Food calories that are in excess of our body's immediate needs tend to be shunted towards fat storage and are far less likely used for either energy, muscle growth / tissue repair or storage as glycogen. This is why eating 5 or 6 times a day not only increases your metabolism by the thermic effect of food but it also means that meal sizes are smaller and there is less chance of an 'on the spot' overload of calories.
Exercise:
Yep exercise. People who regularly perform exercise that is has a high metabolic cost actually have a higher TEF that that of sedentary people. This remains true even if you compare two groups of people that have similar fat free masses. Even more interesting this increase in TEF is not age dependent which means that the natural age related decrease in metabolism can be positively affected by challenging exercise.
Challenging exercise has also been shown to increase the TEF of carbs when they are ingested in the 45
minute post-exercise fuelling window. This means that not only is your insulin sensitivity heightened after exercise, but you burn more energy to digest the carbs and they are less likely to go into fat storage.
This means that you can give your TEF a 'nudge' every time you exercise and that you increase the efficiency of your post-workout fuelling.
So in summary we can affect the TEF in several ways:
Eat more protein and eat it at every meal
Eat hot spicy foods for example foods containing chilli, horseradish and mustard.
Eat more carbs in the AM than PM
Eat less fat
Eat a consistent number of meals each day – 5 or 6 is best
Exercise more
Maximising your TEF is important but it is only one part of the overall metabolic picture.
Take Away: Eat more in the AM than PM, eat often, and become familiar with the 'burn' rates of your food so you can maximise the TEF of your Fuel.